R.I.P. Wunderlist
Blog /

17. April 2020
The time we all dreaded has come: Wunderlist is dead.
Well – almost dead.
You might have heard about it already: As of May 6th you will no longer be able to use one of the most liked list-making apps anymore. Microsoft is shutting down Wunderlist.
So the question on everybody's mind right now is what to do next. And rightfully so. But as with everything here at Agantty we want to give you an easy solution for this problem.
Just use Agantty!
What better to replace a German cloud-based task management application than another German cloud-based task management application? Exactly!
To make the whole ordeal even easier for you, let's go step-by-step through the migration process:
Go to export wunderlist…

…and log into your account there.

Enter the email address you want your list exported to.

Now you can either wait a couple of minutes and download the file right here or check you mails later for the download link.

Unpack your downloaded .zip file.
Klick on "Import" in the top-right corner in Agantty

You can either drag&drop your unzipped "Tasks.json" file into the drop-off field or click it and select the file with the explorer.

By the way:
The best way to use To-Do Lists in Agantty is via the Dashboard view: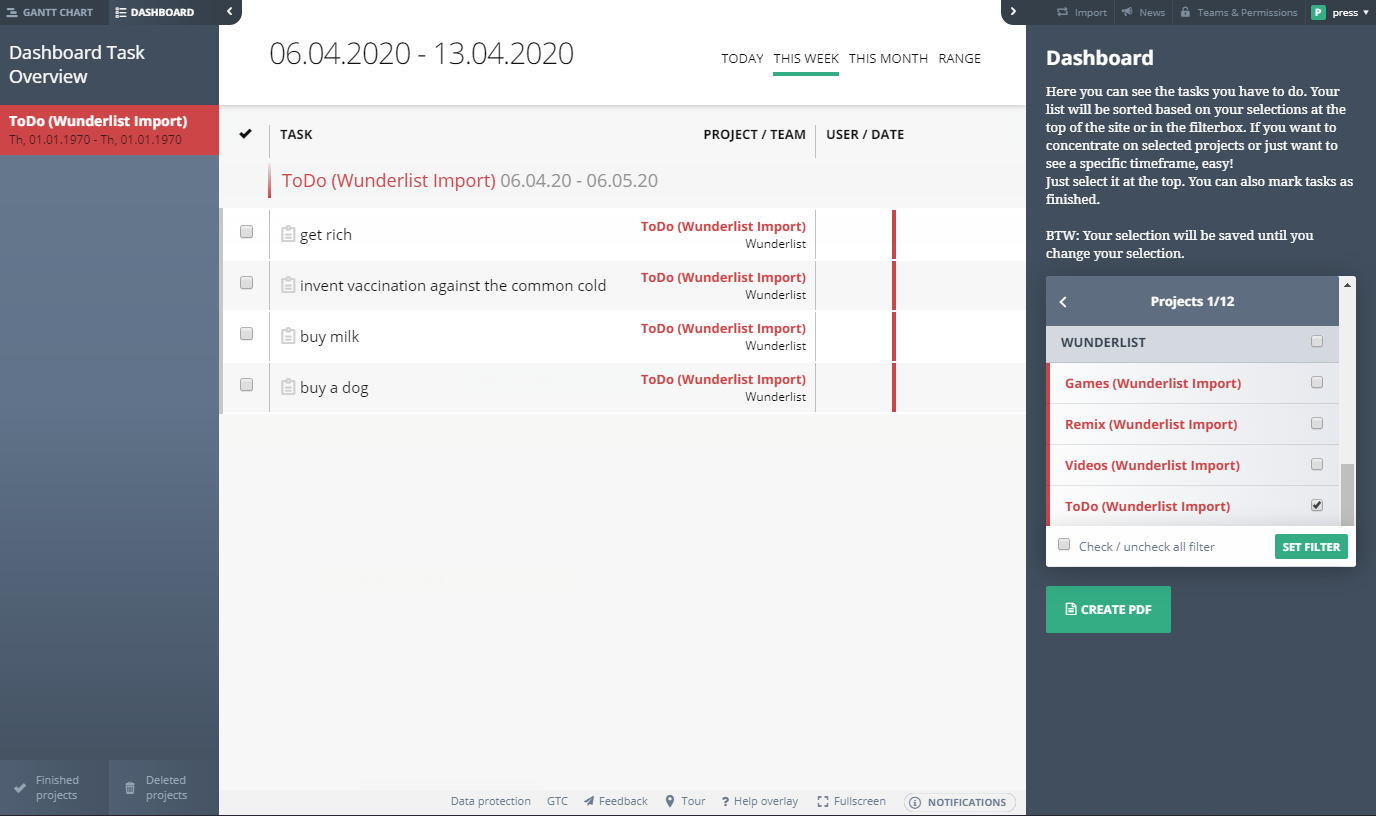 If you are wondering how to-do lists work in Agantty in general, take a look at our tutorial video about it:
PGRpdiBjbGFzcz0idmlkZW8tY29udGFpbmVyIj48aWZyYW1lIHRpdGxlPSJVc2luZyBBZ2FudHR5IGFzIGEgVG8tRG8gTGlzdCBvbiBtb2JpbGUiIHdpZHRoPSI5MDAiIGhlaWdodD0iNTA2IiBzcmM9Imh0dHBzOi8vd3d3LnlvdXR1YmUtbm9jb29raWUuY29tL2VtYmVkL2dGNWE0SXhoMl9jP2ZlYXR1cmU9b2VtYmVkIiBmcmFtZWJvcmRlcj0iMCIgYWxsb3c9ImFjY2VsZXJvbWV0ZXI7IGF1dG9wbGF5OyBlbmNyeXB0ZWQtbWVkaWE7IGd5cm9zY29wZTsgcGljdHVyZS1pbi1waWN0dXJlIiBhbGxvd2Z1bGxzY3JlZW4+PC9pZnJhbWU+PC9kaXY+